Enviro-Sense Logger
Envirosense is a complete solution for monitoring temperature and humidity. It allows for detailed online reports whether you a farmer trying to determine pest control, mildew, harvesting time or a company monitoring products in a warehouse or a IT firm monitoring server room temperatures.

The unit comes with a micro-SD slot for all data logging which can be imported into Excel should the GSM network go down for whatever reason or you simply require onsite logging.

Envirosense has alert capability that will either email you or SMS up to three people if a sensor reaches a predetermined threshold level, e.g. a green house has reached a high temperature requiring the opening of air vents or a warning that a computer room air conditioner has failed.

All near real-time sensor information and analysis is available on the internet through a control panel using a login and password.

The Green House version is also available that allows you to monitor inside and outside temperature and humidity with the ability to activate relays for the misters or fans or heaters.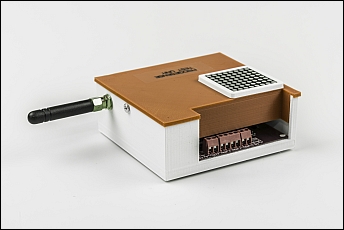 Package includes:

2 Humidity / Temperature sensors (3m cable each).

iWeathar Control model with built in GSM modem.

GSM Magnetic Mount Aerial.

Pre-paid SIM Card

220v to 12V Switch-mode power supply.

Features include:

Easy to install.

Highly Accurate Humidity, Temperature Readings.

Completely self sufficient if solar equipment is added.

Two digital humidity / temperature sensors come standard.

Ultra low power consumption 50-100mA.

Ideally suited for any environment where temperature and humidity is critical.

Once the system is installed you are able to login to the internet Envirosense webpage and have access to:

1. Detailed data analysis.
2. Seasonal and Yearly reports.
3. Growing degree days.
4. Humidity Temperature Hours.
5. Colour data graphs.
6. Chill Hours.
7. Vapour Pressure Deficit Hours.
8. Moist Enthalpy.
9. Fire Danger Index.
10. SMS and Email alert system should any predetermined threshold be reached.

Ideal monitoring for:

1. Farming.
2. Horticulture.
3. Tunnel Agriculture.
4. Distilleries.
5. Warehouses.
6. Cooling systems.
7. Server rooms.
8. Fridges.

Accuracy and Specifications:
Humidity:
0-100%
+/-2.0%RH


Temperature:
-40 to 70°C
+/-0.5°C @25°C
Power Consumption:
11 - 15 Volts < 100mA
Sample Time:
Every 5 minutes


Add-ons:
1. Solar Panel (10-20 Watts, 17V-21V).
2. Solar Regulator.
3. 12V 7Amp Sealed battery.
4. Weatherproof Enclosure with 50mm pole fittings.
5. Solar Radiation shield.
6. Waterproof Stainless Steel Temperature probes.


Controller Hardware:
1. Micro-controller with Modem and easy to read red LED display.

Monthly Fees:
A monthly fee of R129 is required which includes SIM, data and subscription to the Envirosense online network including 20 SMS's per month and unlimited email alerts.

Each unit is guaranteed for up to 12 months from date of purchase. This excludes lightning damage and other drastic forces of nature (tornadoes, hurricanes etc.)

Product images may be different in design and colour than the actual image as iWeathar always strives to improving our products.


Should you not wish to use the iWeathar networks reporting and graphing facilities, you are able to download the raw data in the standard comma delimited CSV format for you to disseminate.