Vital Temp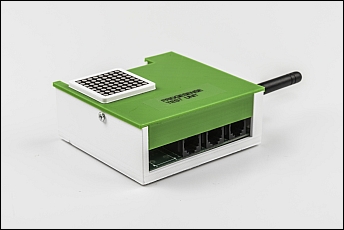 Our smart cellular GPRS Modem continuously interrogates the temperature or humidity sensors and then relays data via GPRS to our dedicated server at 5 minute intervals.

All data is available 24 hours on the internet and viewed on any web enabled computer or mobile device.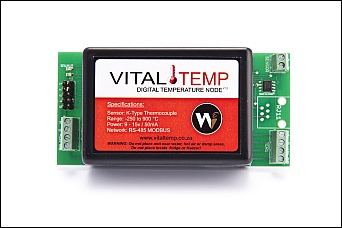 Features include Graphs, Analysis, Reports, Geographic mapping and email and SMS alerts.

VitalTemp has settable alerts for temperatures that exceed set ranges which makes it a perfect solution for monitoring fridges, freezers and server rooms etc. This includes power failure alerts.

The online control panel allows SMS and email alerts to be sent out to up to three recipients.
Due to the live wireless technology there is no required collection of data monthly or annually from each site which is an unnecessary expense in terms of time and resources.

What makes this product unique is the network topology that strings all the monitored devices together on a single wire with power making installations easier and robust. VitalTemp is able to monitor up to 12 monitoring points / fridges per system simultaneously.

All data is fed into a single location allowing multiple sites to be monitored on a single webpage making for easier national and international management.

These features should go a long way in enhancing safety, preventing produce damage and the ability to make informed go-no go decisions.

VitalTemp includes:
1. Weather Proof Enclosure.
2. RS232 to RS485 Converter.
3. GPRS Microcontoller modem.
4. Stubby Antenna.
5. 1 x Network Node with thermocouple sensor.
6. 12V Backup Battery.
7. Battery PSU charger unit.

Up to 12 Network Nodes can be added with their respective thermocouple sensors.


Accuracy and Specifications:
Ambient Air Temp.:
+/- 0.3°C @ 25°C
Temperature:
-250 to 1000 deg C +/- 1 degC @ 25 deg C.
Probe:
K-Type thermocouple.
Points:
up to 12 single nodes with probes
Sample time:
5 minutes
Power Consumption:
200mA to 2 Amps (Average: 700mA).